I just wrapped up a month long trip to Bangladesh and would like to take a moment to share my experience and give out some advice to fellow travellers who's like to take on a similar journey.
My first experience
I had landed at the airport in Dhaka about an hour or so ago. After having made it through immigration with some difficulties, I found myself at the arrival gates of the airport.
In front of me, tremendous smoke (I later learned that the smoke was to prevent mosquitos from entering into the airport). The air was hot and stuffy. Through the smoke I could discern hundreds of Bangladeshi people looking at the doors and beyond them, fences against which hundreds more were leaning, and beyond those, a brown reddish darkness.
People where shouting at me from afar to get my attention, others were asking me if I needed a taxi, where I was from and so on. I was totally overwhelmed and out of my comfort zone.
Fahad, my friend who was coming to pick me up was nowhere to be seen. Worse, they were two exit doors, he could be at any of the two. I did not dare go away from the airport doors, fearing I'd be swallowed by this unknown world.
The airport had no wifi available, making it impossible for me to reach him, and an attempt to use the free airport phone had been unsuccessful.
A man with a reddish beard behind the fence was making signs telling me to come. I did not move. Finally, he made another sign telling me to stay there: That was new and reassuring.
He then disappeared and while I was weighting my non-existing options, I finally heard someone call my name.
There he was, Fahad, with the man with the red beard, who I later learned was his father.
What is Bangladesh like?
After this first traumatic hour, things went from good to better and I can now say that Bangladesh is a wonderful country that I've enjoyed discovering very much. I'll try to dissect my experience here, going through the different topics I consider important: people, cities, pollution, countryside, traffic, food, and more...
Bangladesh's economy is not based on tourism at all
For someone who's been to quite a few tourist hotspots like London, Venice, Paris and so on, I can say that Bangladesh is nothing like that.
In the above mentioned tourist places, many people's income are based solely on tourist money: restaurants, tourist guides, museums, hotels, ... In Bangladesh, there is no tourism infrastructure. The few international hotel brands serve airline crews.
In contrast to tourist destinations I've experienced, it feels like the people of Bangladesh don't give a sh*t about tourists, which is very refreshing. There is no talks of Airbnb taking over cities at all.
Unlike Qatar where I had spent a few days prior to coming to Bangladesh, you get to experience a very raw country, that hasn't adapted to tourist needs or demands.
People in Bangladesh are unimaginably nice
During my whole time here, I've been much more on my guards then would have been warranted. I did suspect every stranger of trying to pull a trick, but this never happened.
While most locals have seen at least some foreigners in their lives, you're still special to a certain extend as a white person. A good comparison would be if you'd see a medium-famous person (not Shakira, but instead some secondary character in Harry Potter like Neville Longbottom) walking through your town.
You would notice it, be as helpful as you can be, maybe ask for a selfie if you're on the pushy end, but you wouldn't go completely mad.
This is how I felt throughout my stay here. Restaurant owners would be proud to serve me food, people would glance at me while I was walking by but they wouldn't stop what they're doing and not a single person tried to scam me.
The most scammy thing that happened was a rickshaw driver asking 200 taka for a ride that would usually cost 150.
All of that is to say that I was treated extremely well and am very grateful for this. In hindsight, I apologise for having been so suspicious.
Bangladesh is growing quickly and people's standards of living are improving daily
My European preconceptions of Bangladesh were that of a very poor country, with struggling people. I had braced myself to see a lot of misery and feel pity for the people of this country, but that expectation was quickly shattered.
All the people I'd see and meet were working hard, happy to see their purchasing power grow every year, many house owners and their family bonds very strong, meaning no-one would be left behind (all of this without a welfare state!).
The GDP per capita growth is impressive as can be seen below. Today's young middle class adults are buying washing machines, have clean-ish tap water and every household member has a phone. All of which their parents could not even think of.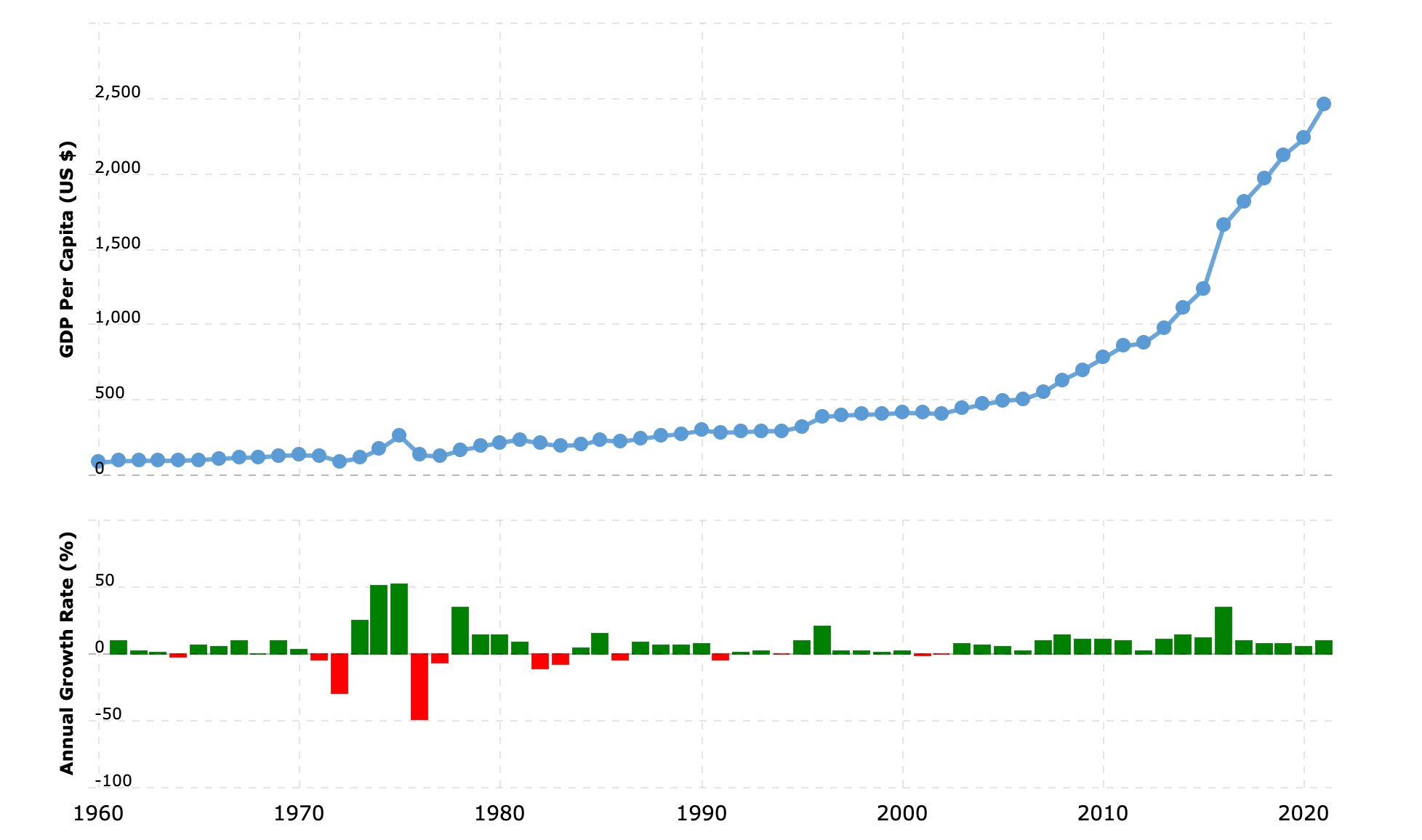 The only time I saw despair and anger in people's eyes was along the road to Sajek where local tourists have taken the habit of throwing money notes to kids along to road, leading them to embrace begging as a way to make money which in turn creates a lot of tension between the kids and feelings of injustice when some kid gets more money than another.
As I'm wrapping up my journey, I do not feel pity for the people of Bangladesh at all and instead am immensely impressed by their work ethics. Every street is bustling with life and thousands of small shops and restaurants are open in every corner of towns to satisfy the demands of this growing economy.
Bangladesh is very, very polluted
For European standards, Bangladesh is polluted on all levels: air, water, trash, ... Those environmental issues have health impacts on locals for sure.
Still, before I describe the situation, I'd like to say that I don't actually condemn Bangladesh for their environmental situation. Given their need for economic growth and more broadly their standards of living, it does seem like favouring low costs over clean air and streets makes sense until their buying power increases further.
It would be foolish to pursue a politic of eliminating all the trash on the streets, this just isn't a priority at the moment. Similarly, if Switzerland's GDP per capita was slashed by fourty, our clean streets would be the first to go.
So let me describe the situation here.
Smog and air pollution
There is no blue sky. The air in Bangladesh is very polluted. The air quality monitors oscillate between Very Unhealthy and Hazardous, the pollution levels being an order of magnitude higher than what we're used to in Europe.
Due to the smog, every day is a grey day here and this does not change in the countryside. Here is a picture with a large sky proportion.
Oh, how I'm longing for a blue sky with white clouds.
The first days were really tough for me, it felt like I was inhaling sand and my throat was irritated. Being used to sleeping with open windows, I quickly changed that habit: stuffy air was still much better.
After a week though, I got used to it and as I'm preparing to leave, I can now go on a balcony and inhale deeply, enjoying what to me feels like fresh air.
While this trip certainly cost me a few days of my life, it was interesting to see that one can get used to the air completely.
Still, I did of course wear a mask while going about in cities as the exhaust gas from CNG's and cars is definitely unpleasant.
Litering and trash
I'm probably exaggerating and not fair to all people in Bangladesh but, it does seem to me that for the general population, littering is totally socially acceptable.
You finished your plastic water bottle? Just throw it on the side.
You've finished your coffee? Just throw the cup down the ravine.
A household's plastic bag filled with trash is full? Throw it into the river.
I did feel a bit ridiculous leaving my trash in bins, knowing very well it would be thrown down a ravine as well.
I have no doubt that the day will come when this country will start to tackle waste management on a large scale (it is already happening in some areas!) but that day is not today and on a side note, am very glad that people eat with their hands. 150 million people using disposable cutlery would be a disaster...
Water and sewage
Water pollution is what did worry me the most, and also the thing that will get tackled soonest I believe.
Of my cursory explorations, it does not seem very clear what water is clean, what is sewage water and the two seem to meet more often than is desirable. Rivers usually smell pretty bad and always look very dirty. Still, without a better alternative, that is the water poorer people use to wash.
For dramatic effect, here is one of the worst examples I've found, but it is of course not representative, most rivers are of course cleaner, but not by an order of magnitude unfortunately...
Food is tasty, cheap & spicy
As a vegetarian, it quickly became clear that my options would be somehow limited. While I did enjoy the food a lot, I did start longing for food variety of the kind that is found in European countries.
Bangladesh is certainly not a vegetarian country and my few tentative attempts to explain the difference between a carrot and a chicken where rather unsuccessful.
Chickens, and animals in general have a very similar status to vegetables in Bangladesh.
A large part of the local cuisine (Byriani for example) is meat based, so I did not get to try that. Still, I got to try all sorts of rice, and many different Bhortas (Begun Bhorta is my favorite! Made from eggplant), Dhals as well as the Indian cuisine (which I adore!).
Because rice and vegetables are cheap, a large meal for two usually cost between $2 and $10 in posh-y places (street food is even cheaper). Meat based food is of course a bit more expensive.
Things I would have liked to know before
Communication throughout society is mainly vocal (voice)
In the US and Europe, we're used to book hotels via apps or websites, to order food through our phone, to find the best restaurant with our Maps app or to find the bus timetable online, but this is not how it works here.
Most things are just known and shared between people and it is common practice to ask people around you. Most hotels and buses only take bookings via phone calls.
This to me is the main challenge for foreigners who don't speak Bangla. I was fortunate to travel with a local friend who could handle all the communication (and there was a surprising amount of it). Things like finding a dry cleaner in the small town of Sajek, booking a driver for a day in Chattogram or ordering vegetarian food would have been much more complicated if I could only communicate in English.
bKash, the main payment app is for Bangladeshis only
To my despair, the main payment app used for confirming hotel bookings, taxi rides or paying for train tickets is available to locals only.
Had I not been travelling with a local, this would have made many things much harder.
Bangla is fairly easy to learn
I wish I had known about this. Because people use a lot of slang words, the local language is surprisingly easy and intuitive to speak. I feel confident that I would be fluent if I spent 3 months with people who only spoke Bangla to me and took some online course.
A few examples to see how intuitive the language is:
Balaghe: I like it
Balaghe na: I don't like it
Asho: I will come back
Ashbe: They will come back
Ar dien na: I don't want more
Ar kabo na: I don't want to eat more
Traffic is ok-ish
From the different blog posts I had read online before coming, I was expecting a far worse traffic. Maybe I just got used to it over the weeks but in general you just have to accept that there is no such thing as a quiet ride through town. If you leave the house to go into Dhaka for example, you know it will be an exhausting and intense ride.
Obviously, do not attempt to walk in cities as the law of the jungle is prevalent, and the cities are huge and lack pedestrian infrastructure. You're far better off getting a rickshaw that will be able to get you safely to where you want to go.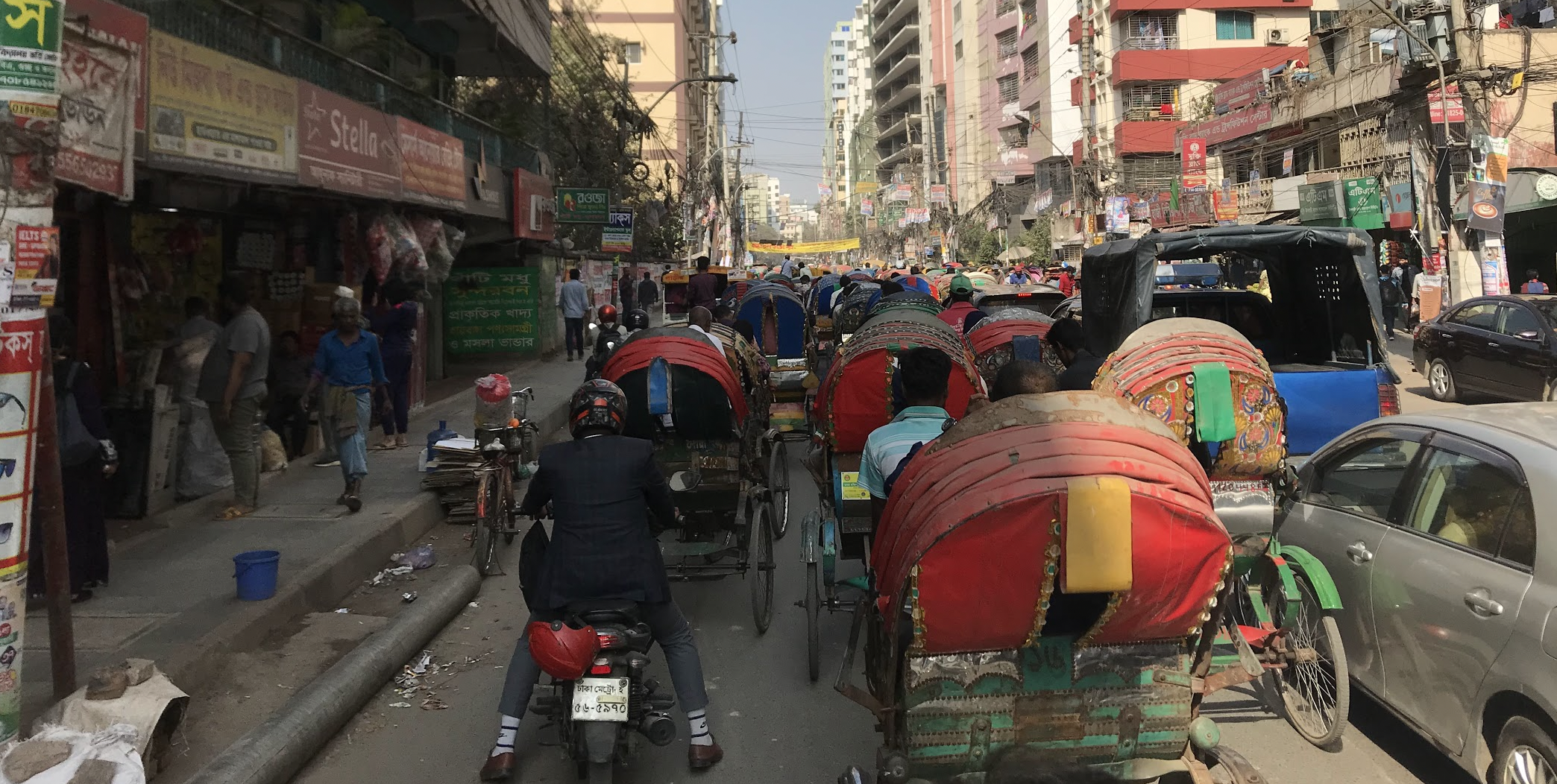 A rather typical street in Dhaka
Trains are good but hard to get
We did take trains multiple times and it was always a very enjoyable ride. Keep in mind that trains move at 30 km per hour on average, which might be slow for European standards but it actually quite fast in comparison to anything else in Bangladesh.
One word of warning though, train tickets are very hard to get! Tickets can be booked only 5 days in advance and will all be bought within the first two minutes. In order to purchase tickets, make sure to be on the website a few minutes before 8 AM local time and refresh the page every few seconds to be the first to load the page at 8:00am.
We did not manage to buy the tickets once due to slow Internet and had to stay a day longer :)
City by city
I enjoy travelling in a relaxed manner, so only visited five areas of Bangladesh in a month. Let me describe each city and give some advice. First of all, I recommend visiting all the cities below, they're all unique and enjoyable.
Dhaka
Of course, the largest city in the country, you have to see it. It is so huge, I can't actually say I've seen it all, only small bits of it.
What I found most beautiful was to see a huge city that does not live from tourism in the slightest. The city is a huge factory of everything you can think of, and a transport route for goods from all around the country.
In huge contrast to Italian metropoles, you won't see a single person doing nothing. They're all pushing, cutting, transporting, bargaining, buying, selling, ... Which of course makes it very tiring to visit. It certainly isn't a peaceful city.
Transport
The city is full of rickshaws who'll take you everywhere. They don't speak english though. A 30 minute ride would be somewhere around 100-150 taka.
For longer rides, CNG's (the green three wheelers) are a better choice.
Keep in mind that the city is so huge that it can be hard to get a driver to actually take you to some distant place and you might instead have to agree on some intermediary place from which you'll take another driver.
Places to visit
Old Dhaka: Get a rickshaw to drive you around for an hour or two. Walking through this messy maze is a nightmare.
Lalbagh Fort: After being completely exhausted from visiting Old Dhaka, this park is a haven of peace that you can retreat to before continuing your journey.
Rabindra Sarobar: A park along a river. Another calm place to walk along.
Where to stay
As I stayed at my friend's house in Dhaka, I can't really advice here.
I can't actually advise much further, the city is just huge and everything is interesting. If you're curious about propaganda, the Military museum is a good example for people who don't have much experience with patriotism (looking at you Swiss people). Walking distance from the museum is the parliament, why not get it off your checklist?
Sylhet
Sylhet is a tourist city for Bangladeshi people who can afford to travel, the contrast with Dhaka is stark, the whole city's economy is based on selling stuff to tourists. The city itself isn't really special but once you get outside into the tea gardens, you can enjoy nice walks in nature.
Where to stay
We stayed in two places in Sylhet, one was great, the other pretty bad.
The bad one was Hotel Noorjahan Grand. We somehow got a deal and stayed at the hotel for $15/night but I did not really feel like a deal. The room smelled smoke really bad, the noise from the road was tough and the place did not feel that clean.
Breakfast was average, leaning towards bad. Only big plus was the rooftop with the swimming pool. But in a smog-filled, polluted air world, there is very little enjoyment in staying in the open air, even if there is a pool.
The other place was the Shuktara Nature Retreat which was a haven of peace for a stressed out Nathan who needed some calm. Right on the day where I was telling my friend that I was burning out, we checked-in this lovely nature resort. Far away from the city, you'll be able to enjoy the calm.
The place is hard to describe and pictures don't do it justice. It is a large jungle park with little paths that take you from the main restaurant to rooms, a swimming pool, tea gardens and so on. You can enjoy just walking through the park going up stair cases, over bamboo bridges.
The resort is full of small hidden rooftops, little benches and other nice spots to sit down and relax.
They have a restaurant, so you don't even need to leave this peaceful place if you need to rest. Pricing wise though, it was much more expensive. For two people, including dinner and breakfast and the nicest room with a wonderful view and balcony, we paid $100/day.
Sreemongal
Sreemongal wasn't on our travel plan initially, but as we passed by during our train ride to Sylhet, we decided we'd stop there for a few days.
It is a very calm rural area with a lot of green space to wander through.
We stayed at the Nishorgo Nirob Eco Cottage, which is ok, but there must be nicer places around.
Our first evening was a bit of a shock, coming from the super nice Nature Retreat and finding a cockroach and a frog in the bathroom was a bit much. But the rest of the stay was fine.
Places to visit
Vurvuria Lake: A beautiful lake, supposedly in a private tea garden, but if you just follow your GPS and walk through nature, you'll make it and no one will even notice you.
Monkey forest: A wonderful forest filled with monkeys, beautiful trees and tea gardens. We stumbled upon this place by chance and hesitate to share it, worrying that silly tourists will feed the monkeys and make them more aggressive towards later tourists. Please don't feed the monkeys. Here is the pin to the area.
For food, we can recommend the Chamung Restaurant & Eco Cafe, a very good place that was highly praised by other locals we met.
Chattogram
Chattogram is a large tourist city that draws many local tourists. We only stayed two nights here but took the time to visit the Ship breaking yards.
It is a few kilometers long beach with many small ship breaking companies located next to each other. High walls, closed doors can be found all along. Most are very suspicious towards tourists and will refuse to even talk to you.
We got lucky and found a ship breaking yard that let us in if we promised not to take pictures. We ended up spending an hour chatting with the manager of the facility about the hypocrisy of rich countries sending their ships to Bangladesh because they paid them most, and then complaining about the environmental damage caused by the industry.
It was great to hear their point of view and learn more about the industry. The whole topic would probably be worth a whole post by itself.
The city is full of nice restaurants and hotels that recommendations won't be necessary.
Sajek
Sajek is a beautiful hill at the very end of Bangladesh, close to Mianmar. This long hill overlooks the area, making the views absolutely stunning. Also, being further away from big cities, you get to see a bit of blue sky!
Because of some rare cases of violence and even more rare cases of kidnapping, a whole administration has been setup to record foreigner entries into the area.
Our hotel host took care of most of the formalities but just know that you can't just walk in. There are foreigner checkpoints along all main roads leading to the Khagrashori area (which is the area Sajek is located in).
I can't really describe the process but using the website does not work, you need some local to do the paperwork for you and you need a tourist company to vouch for you. Best thing is to tell your hotel that you're a foreigner and need help. Do expect the process to take two weeks and cost about $30.
Also, once you arrive, you'll see that all of this is just some admin bullsh*t. The area is as safe as any other area in Bangladesh.
Where to stay & restaurant
While we made the mistake of staying at Machang Nak Resort (nice view but expensive, no towels, no breakfast and very bad sound isolation from other guests or staff), we found a great place that we can fully recommend: Larong Resort. $50/night, beautiful view, and the best restaurant in town just next to it where you will get complimentary breakfast if you stay at the resort. Flavors of Bangla is the name of the restaurant.
Conclusion
I'm writing this after having come home for a week. I'm now getting used again to hot water, speedy trains, empty streets, $8 lattes and all these other Swiss luxuries.
This is definitely not the last time I'll come to Bangladesh.
Many friends have asked me if I'd want to live there, and I'll be honest, the answer is no. While the cost of living is lower, allowing me to enjoy a very luxurious life, there is a significant opportunity cost compared to richer places in terms of who you get to meet and what is considered possible. I'm personally just more excited by tech / ai stuff